Womens Collection
The year's inaugural collection sees Manolo's fundamental essence of craftmanship in every detail. We explore the inspiration behind the styles of Spring 2023, from Manolo's own 1970s silhouettes to painterly botanicals and exquisite new embroidery details.
CURLED FERN
There is no collection of Manolo's that would be complete without a touch of sparkle. This season, he creates an ornate fern crystal embellishment, a curled buckle evocative of 18th century tiaras. New asymmetrical silhouettes in soft pastel satins are punctuated with regal sense of elegance. Explore brand new styles Hafela, and Havelopa.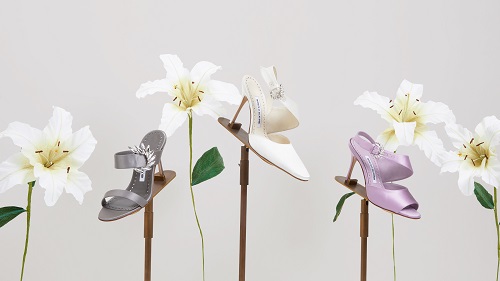 WILD GARDEN
A brand new digital print has been created this season, a lush wild garden pattern reminiscent of vintage botanical illustrations. Manolo references 18th century chintz fabrics, adorning delicate new patterns with a multicoloured botanical buckle, a cluster of enamel and crystal for a modern charm. Shop brand new styles Dayani and Sayani.
CHERRY BLOSSOM EMBROIDERY
This beautiful embroidery detail underpins Manolo's attention to detail and craftmanship. Hand made in India, the clusters of beads and pearls combine to form an exquisite cherry blossom pattern. Styles coming soon.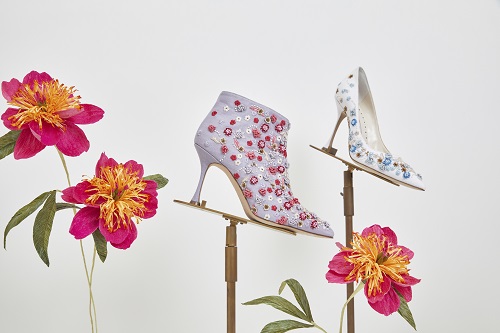 HERITAGE BOTANICAL
Within Manolo's own archive lives the shoe he designed for Ossie Clark in 1971, a moment which was pivotal to the success of the shoe designer. The iconic lace-up sandal is recreated this season complete with the leaf and cherry motif.
"I created my first styles for Ossie Clark, but it could've been the end of my career! Those poor girls couldn't walk properly but people loved it. Sir Cecil Beaton said to me, 'is this a new way of walking?'" - Manolo Blahník