Womens Collection
A Closer Look at the Summer 2020 Collection
Manolo's source of imagination has always come from a rich tapestry of culture, people and places; combined with his strong affiliation with the natural world, having grown up on a fruit farm in the Canary Islands. Every colour, stitch and embellishment shines light on the designer's worldly curiosity. It reminds us that whilst our regular day-to-day lives have altered in the last six months, we can always escape reality by venturing into our own imagination.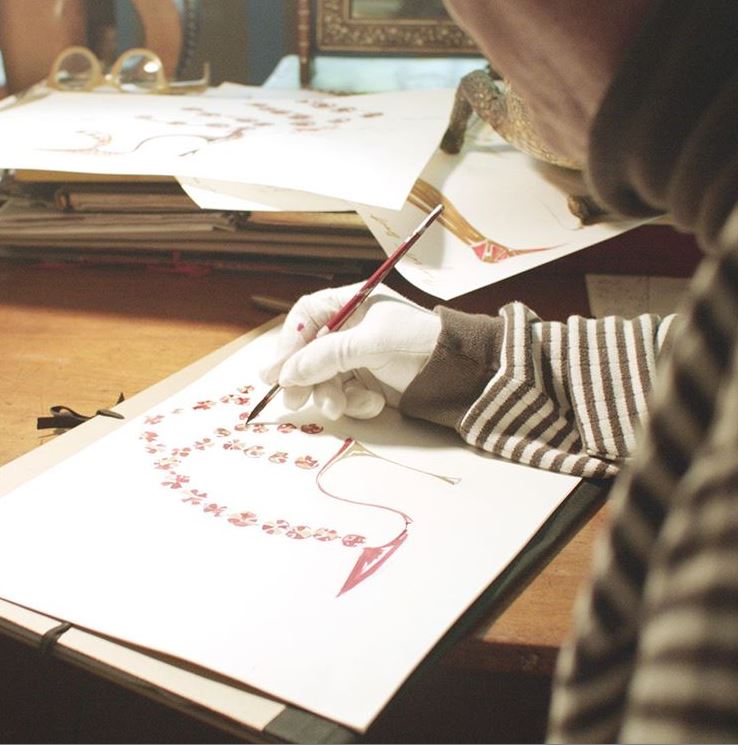 Manolo Blahnik, the man and the house, has a long-standing link to Italy. To this day, Manolo remains extremely close with the artisans in the factories with whom he has worked alongside for over forty years. Last year CEO Kristina Blahnik, who supports her uncle in the design process, also helped to acquire the house's own atelier near Milan. Summer in Italy conjures up images of the Italian Riviera in the 1950s and 1960s, glamourous holidays of movie stars celebrating 'La Dolce Vita'. With an essence of relaxed femininity, Manolo creates a series of pastel raffia shoes. Neta, a flat lace-up in subdued coral and a classic loafer, Dipla in powdery blue - the colours are reminiscent of a hazy summer sunset on the Mediterranean coastline.

This season's use of pattern comes from Manolo's adoration of iconic artist Alexander Calder. Whilst widely known for his kinetic art, mobiles and sculptures, it was Calder's paintings that tapped into Manolo's imagination for this collection. After setting off to Paris in 1926, Calder connected with none other than Piet Mondrian, whose abstract paintings left Calder so in awe that he rushed off to forge his own creations in this medium. Manolo set about translating these geometric forms into styles such as Herodotus with bursts of primary-coloured suede and irregular straps, creating an optical illusion that gives the shoe a life of its own.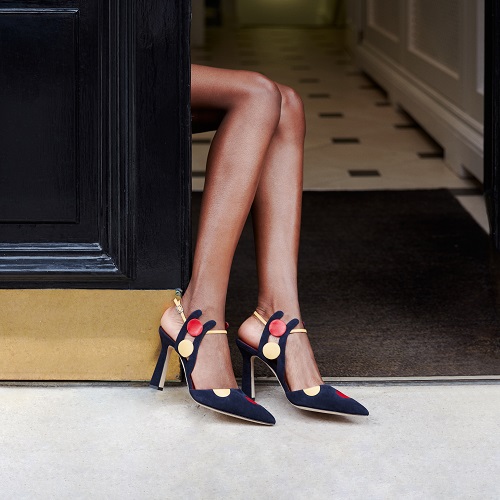 Manolo's Summer collection would not be complete without the inclusion of a new embellishment feature. He looks to one of his favourite periods in history for his approach to ornamentation – 17th century Baroque jewellery. The curved, elaborate lines of Baroque jewellery were seen as a riposte to the rigid dressing of the Renaissance. The latter half of the 17th century saw the introduction of further gem and pearl mountings amongst the delicate yet elaborate brooches and pendants. London houses an incredible collection of Baroque jewellery which inspired styles such as Turgo with a gold setting, imitation freshwater pearls and tonal blue gems.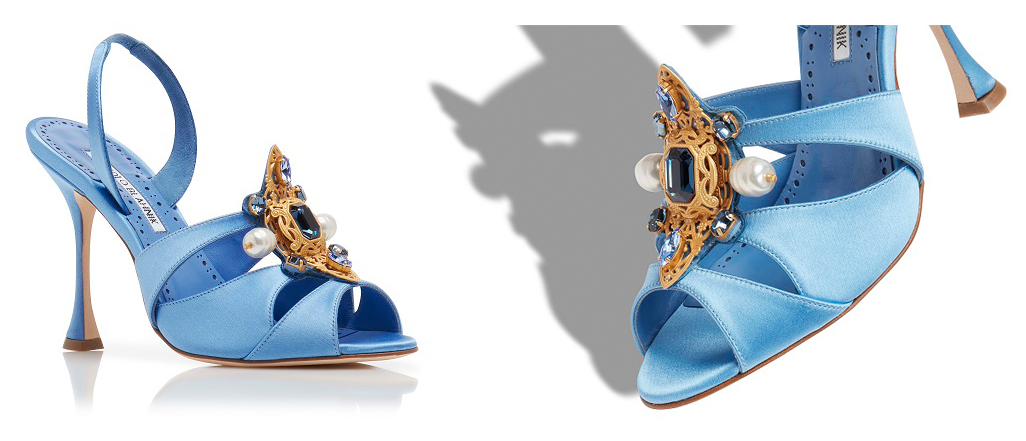 Discover the full Summer 2020 Collection here.