Womens Collection

Bold colours and elaborate silhouettes are at the forefront of the Summer 2023 collection. Drawing from his limitless imagination, Manolo found inspiration everywhere from heritage architecture to Hollywood to 1960s optical art to Neapolitan museum works.
ARCHITECTURE
Architectural proportion and structure have shaped Manolo's designs for decades. This season he looked to the organic shapes of historic Andalusian structures and the balance of geometric utility with bold beauty signature to Walter Gropius' Bauhaus movement. The result is intricate cut-out leather used to craft beautiful flats and sandals along with contrast looping motifs swirling over timeless pumps that achieve the delicate balance of form and function.
70s WAVE
The 1970s hold special significance for Manolo as the time when he settled in London and began pursuing his passion for design. The spirit of sweeping change brought on by the era's innovators inspired an edit of futuristic styles in pop-colours and a monochromatic wave print. The psychedelic print is available in a thigh-skimming boot Porreta and the classic pointed toe pump BB.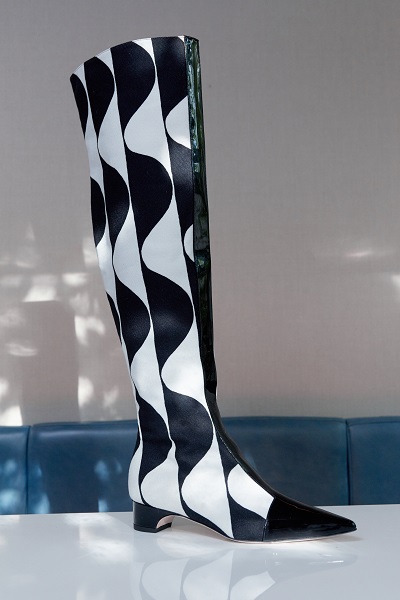 MONTE ROSA
A departure away from tropical locales, Manolo looks to alpine destinations and the allure of stark whites and cool hues. The adventurous edit features standout buckles on both the Pollux stiletto sandal, as well as its sister, a flat sandal called Puxanflat.
HOLLYWOOD EMBELLISHMENT
For the season's touch of glamour, Manolo was inspired by model Toto Koopman in the golden age of Hollywood cinema. Lustrous satin sandals and mules are dotted with ornate floral crystals to emulate the mystique and charm of the society beauty.
Creativity and craftsmanship are the long-standing pillars to Manolo's design sensibility and ever present in this new collection of love-forever styles.
Explore the Summer 2023 collection here.