New Collection
Introducing the Spring 2022 Collection
This season Manolo Blahnik discovered inspiration in Italy and artisans, two of his most enduring passions. The Spring 2022 collection is drawn from distinctive Italian architects, novelists and artists across fashion and film, all with the signature touches of joyous colour, extraordinary craftsmanship and timeless style.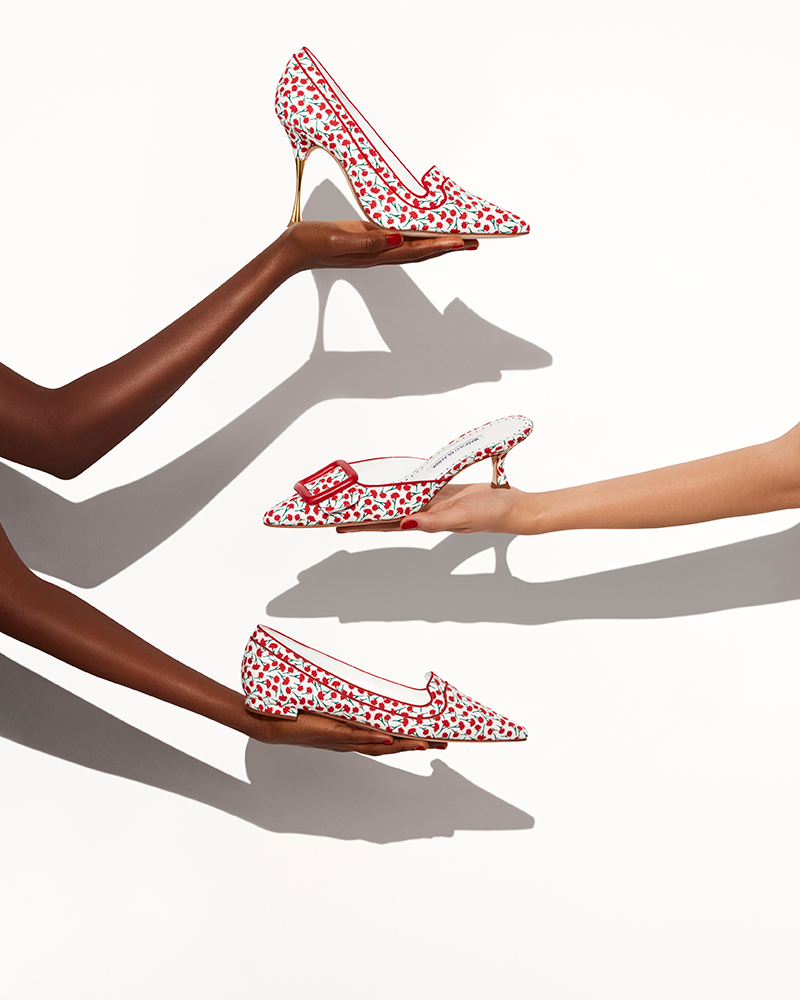 Manolo often weaves in inspiration from his beloved Sicily – this season he studied 19th century photographs of the island, captured by Giovanni Verga, translating their austerity into the delicate Hulane and Caracol styles. In contrast, the opulent brocades and swirling arabesques seen in magnificent Italian renaissance portraiture inspired the season's scrolling jacquard patterns, which were created using heritage techniques.
Manolo further embraced a sense of frivolity and absurdity drawn from Italian dramatist Luigi Pirandello who blurred the boundaries of reality and illusion in his plays, resulting in checkerboard patterns with pom-pom detailing in saturated primary tones. Delving into Commedia Dell'Arte provided another spark of playful inspiration, seen in the collection's scallop-edged boots and pumps. A subtler scalloping, seen on the Ulissa, is drawn from Italian architect Piero Portaluppi's historical renovations and enduring sophistication.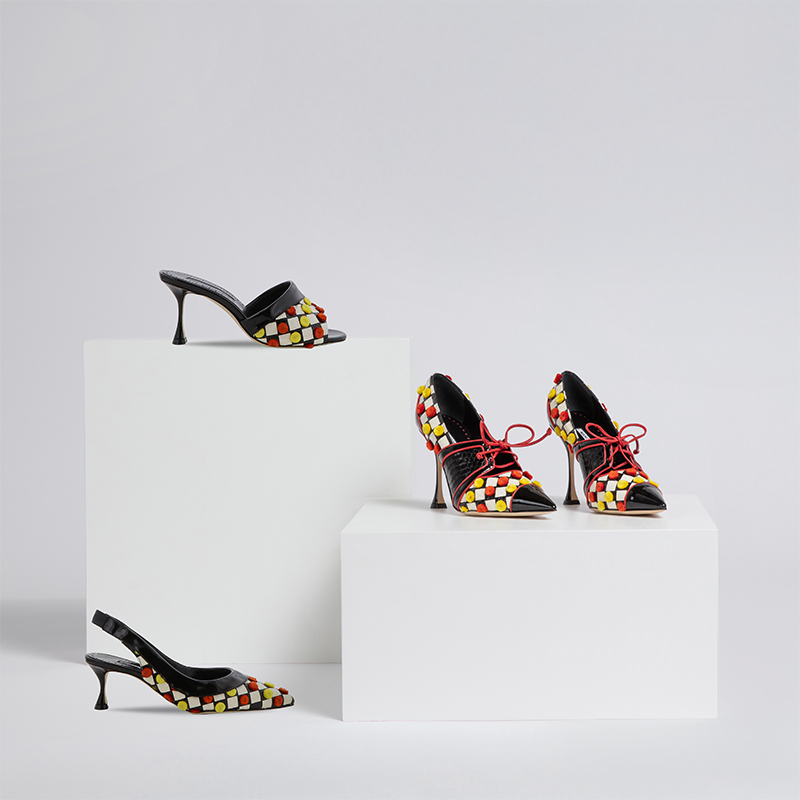 Drawn to the iconic work of fellow designers, Manolo found inspiration this season in the "golden age" of couture. Exploring the innovation and perfectionism typified by Cristobal Balenciaga, he chose a lavish carnation gown to reinterpret into Spring's signature floral print, which blooms over new silhouettes and updated classics alike.
Manolo also adored the coquettish charm of bows in the early works of Christian Dior Couture, adopting a nostalgic vintage aesthetic with a muted colour palette for the Ircana and Pertinanu. Contrastingly, artist Paul Klee's expressive geometric precision led Manolo to develop a striking striped pattern in cool tones with curved toplines, as seen on the BB. Era-defining 1960s images of Peggy Moffat in designer Rudi Gernreich's cutaway swimsuit inspired a graphic triangular series of styles in monochromatic water snake.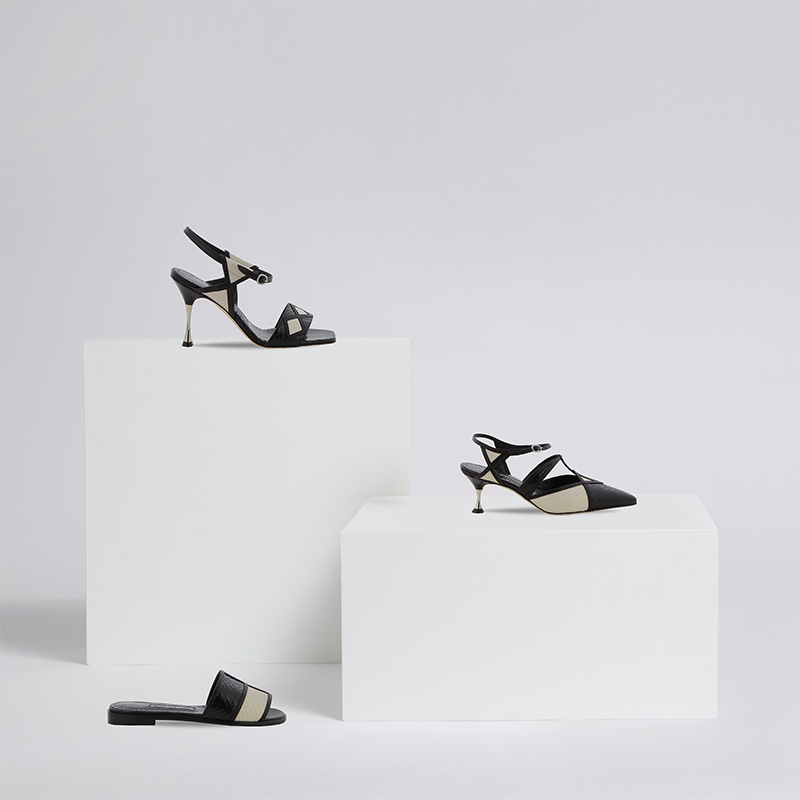 Ornate late Georgian jewellery served as the muse for this season's embellishments. Romantic sweeping lines and natural motifs inspired sculpted sparkling buckles on gemstone-coloured mules and sandals. The brilliance of 1920s flapper fashions led to another – angular baguette tassels topping cool-toned satin heels that are perfectly poised to capture the sparkling spirit of the next roaring era.
Manolo's love of colour is evident in everything, from the whimsical collections he designs to the spectrum of suits he wears. This season he studied the often overlooked vibrancy of 19th century fashions. Extravagant Victorian ruching inspired ripple-like ruffles on the two-tone Rufas sandal and Manolo focused on perfecting scale and proportion to let satisfyingly saturated hues hold the spotlight on the Anulino slingback.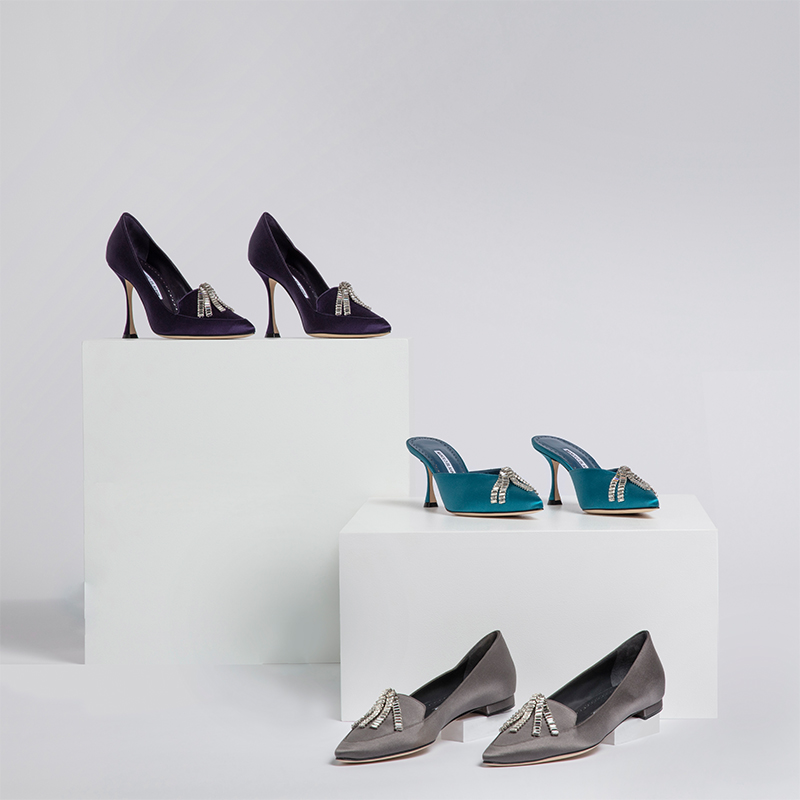 Manolo continues to uncover endless and far-reaching passions in the creation of each enchanting season. Spring 2022 keeps fantasy and craftsmanship at the forefront to offer a collection of love-forever pieces.
Please click here to view the Spring 22 collection.